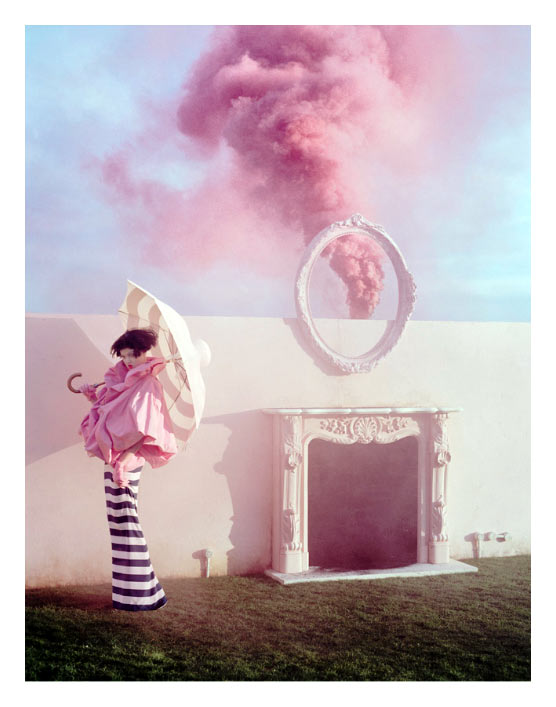 One of my personal philosophies is that life is an occasion worth dressing up for! After all, everything is so much more fun when you make an effort to surround yourself with beauty.
The transformational properties of clothing are real, & not to be sniffed at! It doesn't take a genius to realise that you feel extremely different in your lounging-around-the-house clothes & your party dresses, or to notice the change in attitude when you switch your slip-ons to something with a little more kick. So it makes sense to commit ourselves to bringing a little more beauty & a little more wonder into our daily lives! It is simply good for us!
Here are some of my ideas to make your day-to-day wardrobe a little more exciting!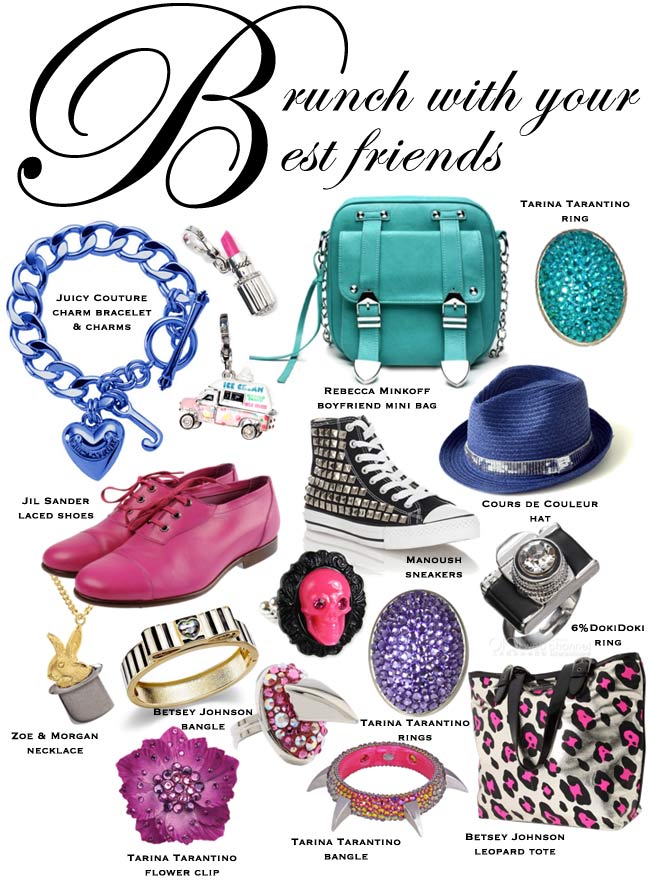 Brunch with your best friends is the perfect excuse to make the most of those wonderfully whimsical accessories lurking in the back of your jewellery box. After all, who will appreciate an ice-cream truck charm or a ring in the shape of a camera like the friend who knows all your secrets?!
Dressing for a man is simple, but dressing for other women is where you really get to have fun. They are the ones who really appreciate the effort!
I'm gagging for a Juicy Couture starter charm bracelet with ice-cream truck & lipstick charms! They're about the cutest things I've ever seen! Too fun! The Rebecca Minkoff boyfriend bag is a sassy show-stealer in any colour, & who would say no to a spiked ring by Tarina Tarantino? This leopard-print tote by Betsey Johnson is perfect for toting treasures, while Tarina Tarantino's spiked bangle could definitely put someone's eye out in a most glamourous way! (Be careful!)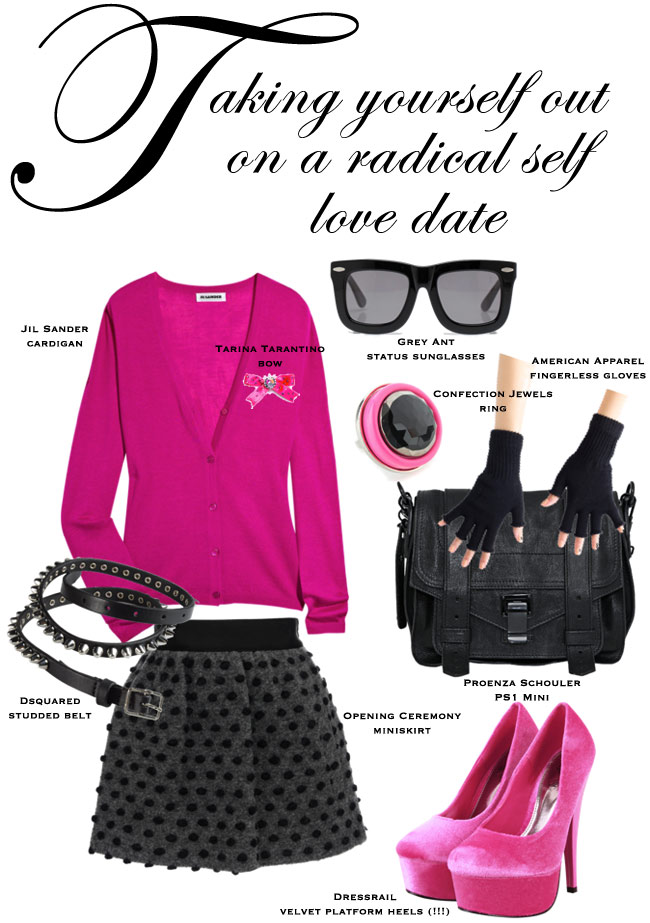 It's always a good time to take yourself out & treat yourself right. What could you do on a radical self love date? You could go to an art museum, watch a movie no one else wants to see, spend hours in a magazine shop or feed ducks at the park. Buy a bubble gun & shoot it off randomly, to punctuate your happiness! Practice your strut. Sashay, sister!
I reckon these Grey Ant status sunglasses are a bad girl essential: perfect for hiding devious eyes at unholy hours! Stash your little black book in a Proenza Schouler PS1 satchel, & team it all with a pink cashmere cardigan & flared skirt for effortless cool. Insane pink velvet platform heels optional (but encouraged)!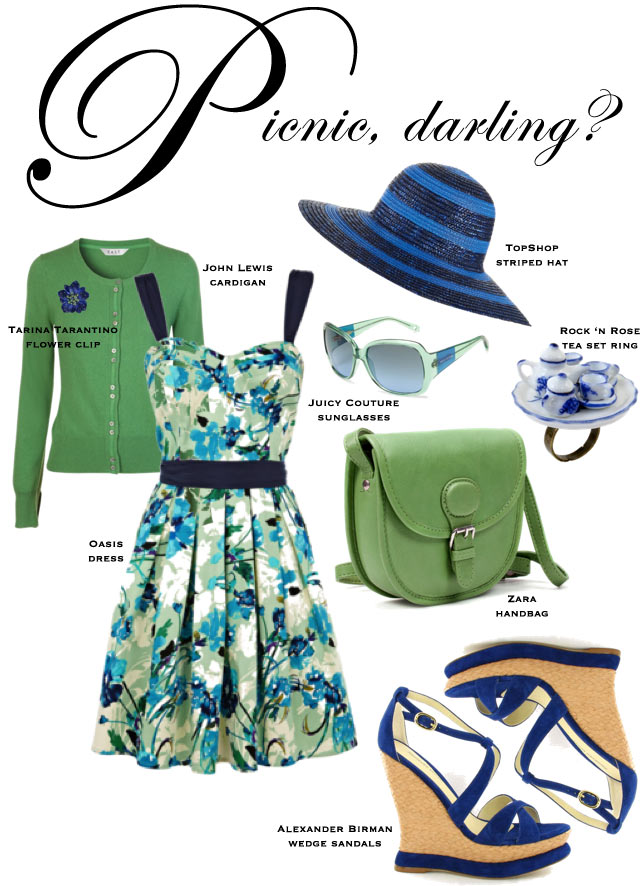 Now you'll know exactly what to wear next time sometimes calls & says, "Picnic, darling?" Tell them to bring the picnic basket, & you'll bring the party!
Start with a fabulous pair of wedge sandals — they strike the perfect balance between being practical & frivolous (& we all know how much high heels suck on grass!). I love the design of this pair by Alexandre Birman. A big pair of sunglasses are, of course, an essential. Juicy Couture's Honey Bunny sunglasses seem to match the setting perfectly! Pair them with an easy floral print dress & an oversized hat for a sweet & snappy look.
Stop off on your way to stock up on fun fruits — passionfruit, pomegranate & young coconut are some of my favourites — & a big bottle of ginger beer!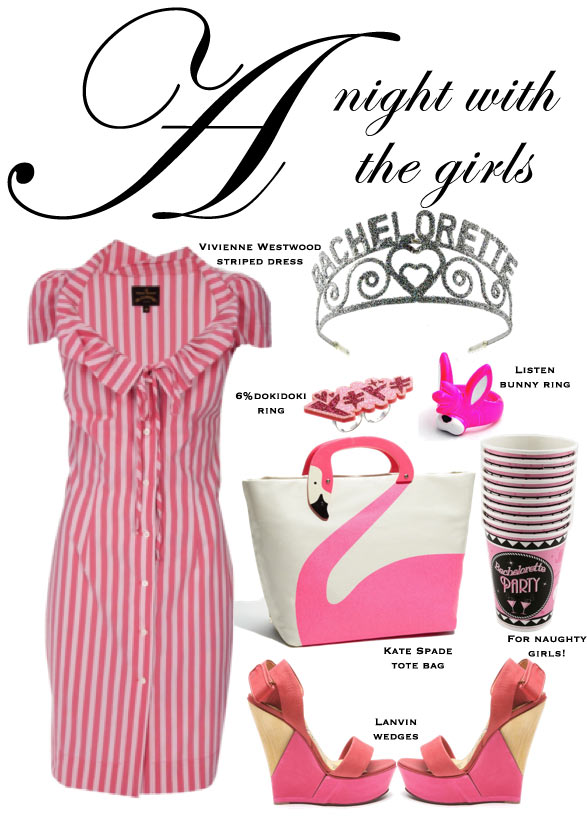 It's true that a night with the girls can easily get a little rowdy… So wear something cute that you can still run in, if it all gets too out of control!
Everyone loves a striped dress by Vivienne Westwood — it really does all the talking for you! This one will pull you in where you need it & give you an amazing shape. Of course, I'm crazy about this flamingo tote bag by Kate Spade, especially since it's the perfect size to hide contraband… ! Did you know that this ring by 6%dokidoki glows in the dark & says, "Heart attack"?! Ahhh! Team the whole lot with a pair of Lanvin wedges, or any wedge really, as long as it has an ankle-strap… It's important to be able to make a hasty escape, sometimes!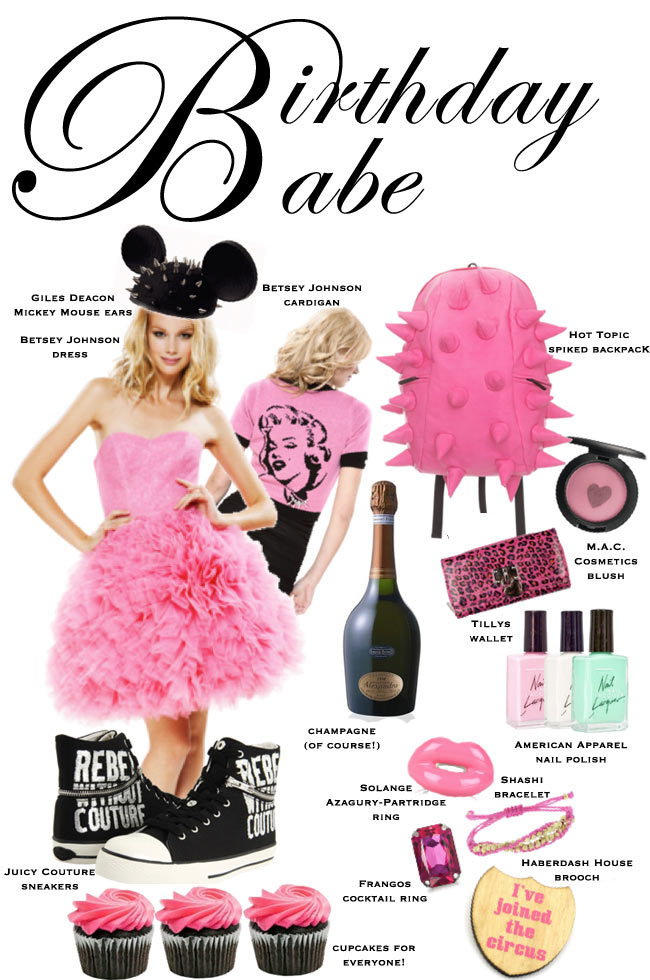 Hey birthday babe! I believe in celebrating one's birthday with gusto… & plenty of champagne! A pair of ears resting atop your noggin never hurts, either. You could easily recreate this Giles Deacon Mickey Mouse ear hat by self-studding a plain hat from Disneyland. (Not going to Anaheim anytime soon? You can buy one on eBay!)
The Betsey Johnson Tallulah dress is a birthday girl's dream come true, worn with hi-top Juicy Couture sneakers for ultra-mobility. You can run all over the city in those suckers! A Betsey Johnson cardigan emblazoned with Marilyn Monroe's face will keep you cozy if there's a chill in the air, & if not, you can just throw it in your (amazing!) spiked backpack!
Oh, & don't forget the cupcakes… !