Last Thursday, I got all dolled up & headed out on foot to see one of my best friends — & ALL-TIME FAVOURITE creative collaborator! — Chloe Rice! YAY! (Check out her awesome blog here!)
That's right, she's back — albeit maybe temporarily?! — from Los Angeles for a couple of months, & I had missed her so much!
We met up with no particular plan, & ended up going on a huge trek around the city. We spent some time in Union Square, drank watermelon juice & hibiscus iced tea, visited the Big Gay Ice-Cream Truck & tried on fancy vintage dresses. We covered ourselves in perfumes & oils & were bombarded by pushy salespeople. We got caught in a rainstorm. We caressed mushrooms. It was GREAT!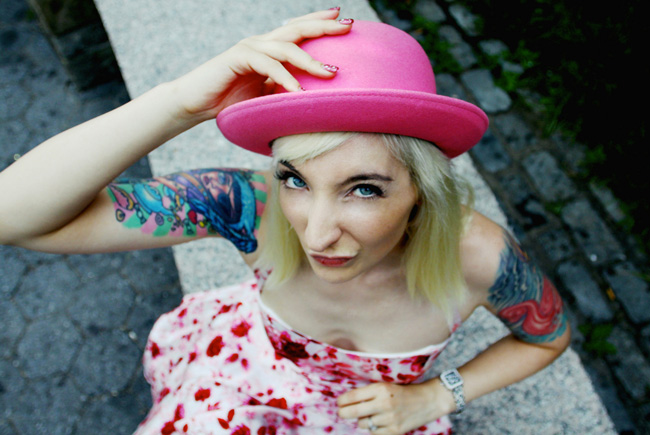 I wore…

Vintage pink bowler hat (I bought it on Etsy ages ago; this was its debut!)


Betsey Johnson Skulls-N-Roses halter dress


Black crinoline


Betsey Johnson starburst heels (I wear these ALL THE TIME, they are SO COMFORTABLE!)


Engagement ring


Betsey Johnson leopard print watch (that link goes to the pink one — mine is actually black, white & grey)


American Apparel clutch (I use this ALL the time too, & definitely need it in more colours!)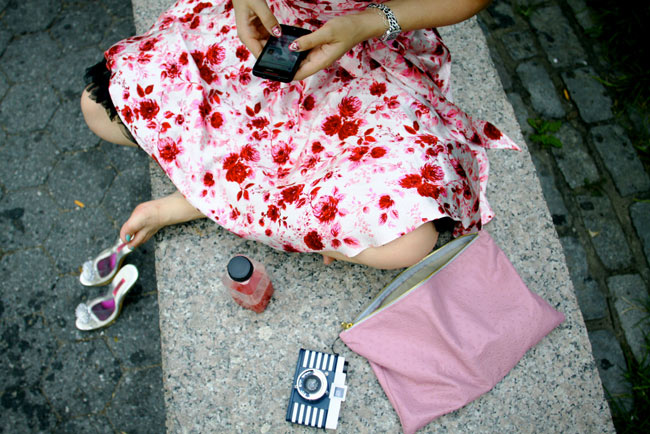 Sometimes a girl just has to take her shoes off!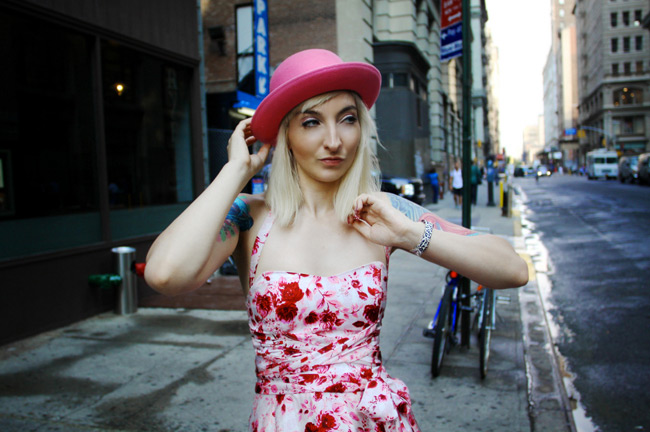 As you can see, Chloe took a few snaps along the way…
I truly believe that this dress is one of the best things to come out of Betsey Johnson's delicious brainmeats since… well, I don't know when! THIS DRESS IS PERFECT. It has a halter-neck, a sweetheart bust & a super-long sash, which I like to wrap around my body, then tie in a bow on one side. The skirt is big & full & perfect for twirling. Even better, it is made of super-light silk, so you feel practically naked. (Anyone who has ever spent any time in New York City in summer will understand why this is good news!)
I'm not even done talking about the dress. Did I mention that the top is also BONED? Or that even though the print looks sweet — pink & red roses — there are super-light pink SKULLS printed all over it?! Come onnnnnn. That is too good!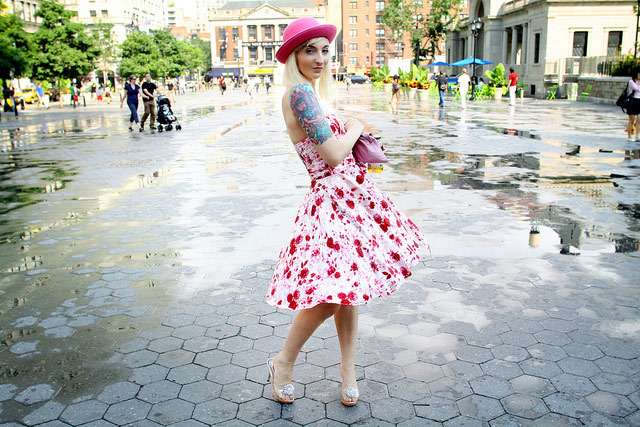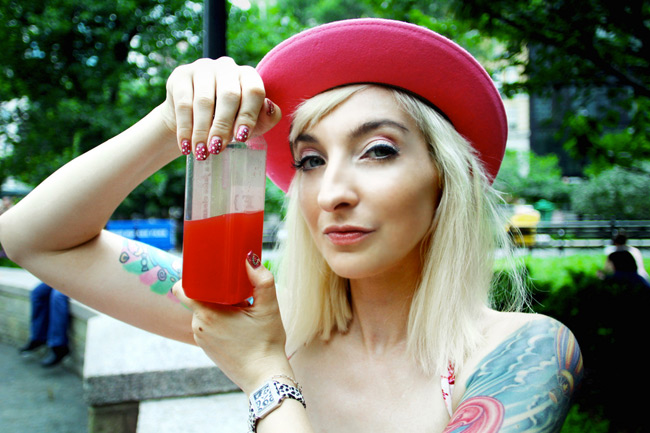 My nailpolish LOOKS like it is simply pink with white polka-dots, but it is not. It's actually pink glitter with holographic silver dots which change in the light… Prettttttttty amazing. (Here's a close-up if you want one!) Thanks, Sakura! Anyway, it was one of those days where somehow, everything matched… even my juice!
It was also really, really hot. This was my first time wearing this hat in public, & it was a smash hit. There's something wonderful about wearing a hat in summer: it just makes you seem more put-together (& no worries about hair frizzing or going otherwise cray-cray in the HIDEOUS humidity!).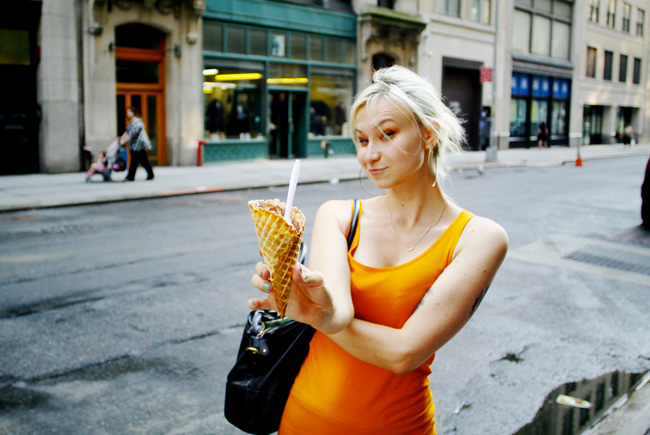 Here's a photo I took of Chloe. Isn't she a cutie?! This was just after our trip to the Big Gay Ice-Cream Truck. We stood outside my favourite vintage shop while she licked the last of it.
I'm doing the Clean Program right now (Clean is a great book to read if you want to learn about the process or try it yourself!), so no ice-cream for me… & while I looked longingly at Chloe's chocolate/vanilla soft-serve in a waffle cone with Nutella, whipped cream & salted caramel (!!!), I was (somehow?!) able to resist. It wasn't as painful as you might think!
Plus, the guy in the truck was singing along to Milli Vanilli, which would make anyone smile!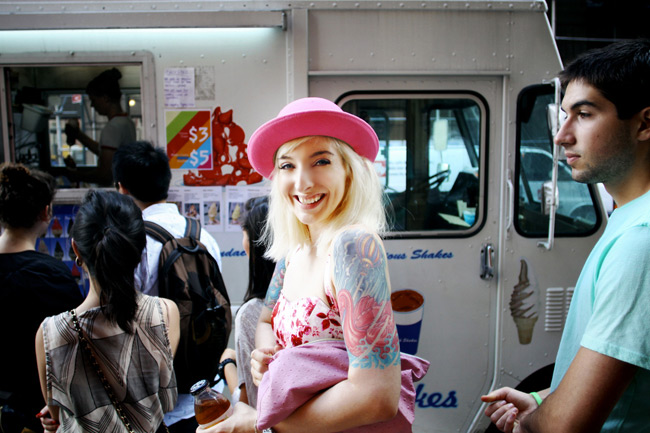 I hope you're having an amazing summer! Don't forget your sunscreen… !