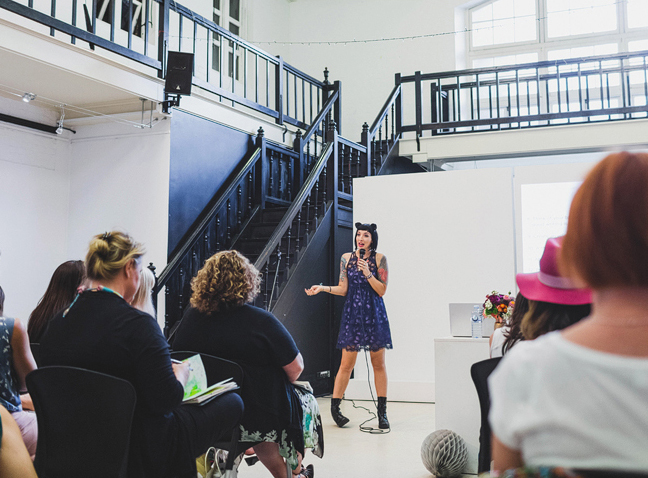 My favourite thing to do is speak to badass babes and magic-makers about radical self love, revolutionary self-expression, and doing business with passion… And that's why I travel the world doing it.
I've been everywhere, man! I've spoken at TEDxCMU, Alt Design Summit, NYU and South by South West Interactive, as well as many schools, professional blogging conferences, and business events. I'm just as comfortable speaking to ten women as I am an audience of a thousand. I'm eager, excited, and animated on stage… And I always rock up in a wicked outfit.
Be warned: there are no bland Powerpoint presentation or overly-rehearsed spiels here. I speak with fervour, off-the-cuff, and I connect with every single person in the room.
I'd absolutely love to meet you out on the road. Have a peek at the events listings over on the right!
For information about hiring me to speak, and for a full list of previous speaking engagements, please email me.
"Your commitment to empowering women to love themselves shines through in abundance, and you show that beneath the glitter a compassionate heart beats." (Emma Lloyd)
"When she spoke it was like you could feel everyone sitting up in their chair a little bit more." (Sarah Moody)
"You speak in celebration of all women collectively and in celebration of us all as women as individuals." (Alison Benbough)
"Thanks so much for taking the out of your day to come and talk to the girls today. They loved you. In terms of self-esteem and happiness, you oozed your message and you were really inspiring for them. Even us oldies loved listening to you." (Bev Newton, Chilton St James School)
"Gala's understanding of digital culture comes through as brilliantly in person as it does on the screen. She conveys a vast depth of knowledge while remaining accessible and incredibly entertaining. She is as inspiring as she is delightful!" (John 'Halcyon' Styn)
"Newbie or veteran, I think everyone gained some inspiration & insight about the blog-world with Gala on the IFB Business of Blogging panel. Gala relayed her advice in the most upfront and personable manner. She made the goal of monetizing a personal blog seem attainable without a team of business advisers, just true quality content, passion and a little savvy. I loved her perceptive advice about premium content and effective advertising tactics. What's not to love about a no-B.S. pep talk with the track record to back it up!? Oh, and let's not overlook those dreamy blue eyes & accent…" (Jazzi McGilbert)
"Gala is a dynamic, charming and engaging speaker — in or out of her sparkly Mickey Mouse ears. I saw her on the "Growing Up Online" panel at SXSWi, and was so impressed by her skills that I invited her to speak on my own panel the next year." (Molly Crabapple)
"Gala was a true star at the panel – she combined honest opinions with really valuable advice, all topped with her sparkling personality. The audience can't get enough of her, and she is as engaging in-person as she is online. A natural speaker, she knows to express her passion with words, and to inspire people." (Yuli Ziv)
"Being in a room with Gala Darling will completely change the energy of your spirit." (Mary England)