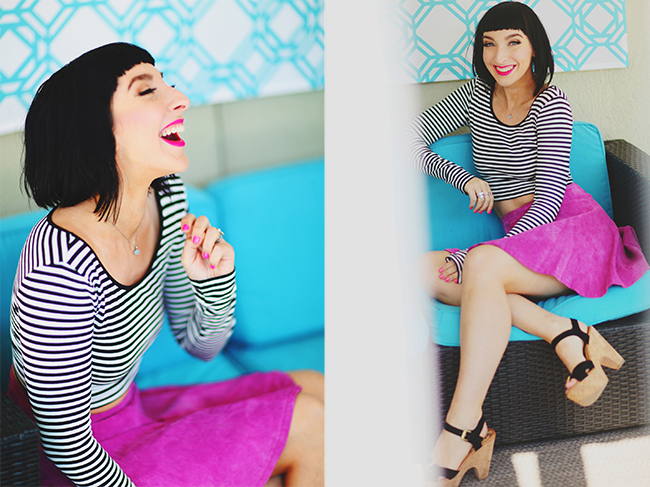 I used to be in turmoil, creating constant chaos for myself. I couldn't imagine what it felt like to be happy; misery was my identity. When I stumbled upon radical self love, my life was transformed, and I saw with new eyes. These days, I am devoted to helping other women fall in love with themselves, too.
Hello! My name is Gala Darling. (Yes, that's my real name, but no, I wasn't born with it: it came to me in a dream and I had it legally changed in 2006!) I'm a writer, speaker, and magic-maker from New Zealand.
When I was 22 years old, I left the peace and tranquility of life Down Under in search of adventure… And I found it! Today, I live in New York City with my husband, Mike, and our two dogs, Hank and Dolly.
In my late teens and early twenties, I was completely miserable and thought the fastest route to fulfillment was to simply stop eating. (Long story short: it ain't.) I was able to overcome my debilitating sense of self-loathing, and now that I've discovered the bad-assery of happiness, I am dedicated to helping other women fall in love with themselves, too.
These days, I blog about how there's magic around every corner. I write books which show women how beautiful they are. I speak about finding your voice and blazing your own trail… And I do it all in sequins!
My Radical Self Love Salons are a runaway success, popping up in the coolest cities all over the world. In addition to learning self-love techniques, doing activities, and a whole lot of Q&A, you'll participate in a magical radical self love ritual. (You'll be finding rose petals for days afterwards!) Come and join us!
In 2012, I co-founded The Blogcademy with two of my best friends, and we taught 300 women in our first year alone. We travel the world encouraging women to use their voice and rock their slice of the internet, and if you can't make it to a class, we now offer Home School!
My first jewellery collection, Moxie, in collaboration with New Zealand Mint, was released in December 2013. It's full of sterling silver radical self love totems to uplift, inspire, and encourage you to make magic every day.
In a past life, I worked as the Beauty Editor at xoJane, and Fashion and Style Editor at RedBull's magazine, ChinaShop.
I am an ENFP and a Seven. Astrologically, my Sun and Mercury are in Virgo, and my Ascendant and Moon are in Sagittarius. I have a lot of Leo in my chart too, in case you couldn't guess!
I adore cracking open fortune cookies, animal rescue, turning the music up extra-loud, and counting my blessings. When I was a little girl, my ultimate goal was to have a transatlantic accent. Dreams do come true!
If this is your first time, you can find out what this site is all about right here.
My media bio is below. You can download images here!
GALA DARLING
Gala Darling has been called "the oracle of all things mystically glam" and "a modern-day guru". Gabby Bernstein says she is a "spiritual revolutionary". She has been described as "a tattooed Miss Manners", and a "New York City society gal". Celebrity stylist and icon Rachel Zoe says Gala and her site are "très chic". Her eponymous blog is perpetually ranked within the top 2% of fashion blogs, Fashionista called her one of the ten most influential style bloggers in the world, and her TEDx talk on Radical Self Love has been viewed over 100,000 times.
Garnering over a million impressions a month, galadarling.com is "an online apothecary for any deep funk" (Renegade Collective). With topics spanning personal style to modern magic, radical self love and everything in between, Gala is a truly contemporary writer, visionary and weaver of worlds.
During her teens and early twenties, Gala endured depression and an eating disorder. After undergoing a powerful transformation, she discovered radical self love. These days, she is dedicated to showing women the bad-assery of happiness, and teaching them how to fall in love with themselves. Her ultimate goal is to hold up a mirror and show women how truly beautiful they are, how magical the world is, and how we are never victims of our circumstances, only of our thinking.
Gala has been featured prominently in The New York Times, New Zealand Herald, Teen Vogue, New York Post, Elle, Cosmopolitan, Time Out New York, Sydney Morning Herald, The Daily Telegraph, Next, Cleo, Girlfriend, The Age, Sunday Herald Sun, The Dominion Post, Inked magazine, Glasgow Guardian, MiNDFOOD,  Stuff, and Viva. She has been interviewed on CBS, ABC News, Stuff, and Hay House Radio, among (many) others. She has been on the covers of Her, Funs NY, and Canvas.
As an accomplished and enthusiastic public speaker, she's happiest with a microphone in her hand. A co-founder of The Blogcademy, she travels the globe encouraging women to claim their slice of the internet, embrace their weirdness and live out loud. (Within its first year, The Blogcademy had taught over 300 women on several continents.) She has spoken about entrepreneurship, radical self love, and blogging at SXSW Interactive, TEDxCMU and dozens of other events across the world.
With her signature raven-black bob and cosmic eyes, she is often seen exploring the streets of New York City… Or anywhere else her imagination takes her!