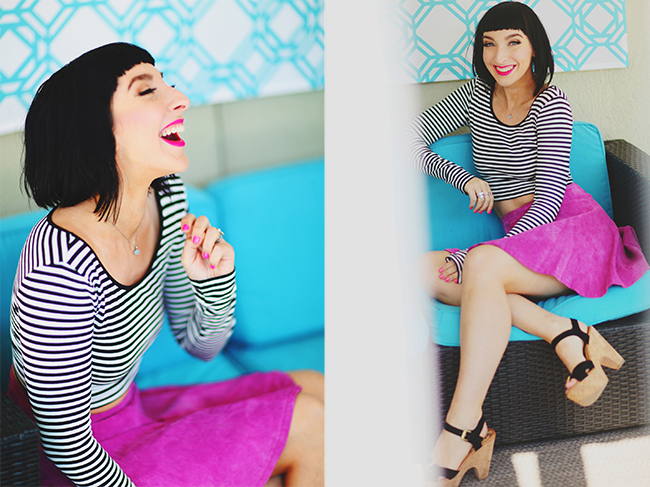 I used to be in turmoil, creating constant chaos for myself. I couldn't imagine what it felt like to be happy; misery was my identity. When I stumbled upon radical self love, my life was transformed, and I saw with new eyes. These days, I am devoted to helping other women fall in love with themselves, too.
Hello! My name is Gala Darling. (Yes, that's my real name, but no, I wasn't born with it: it came to me in a dream and I had it legally changed in 2006!) I'm an author, teacher, and speaker from New Zealand.
When I was 24 years old, I left the peace and tranquility of life Down Under in search of adventure… And I found it! Today, I live in New York City, and spend a lot of time on planes and in hotels.
In my late teens and early twenties, I was completely miserable and thought the fastest route to fulfillment was to simply stop eating. (Long story short: it ain't.) I was able to overcome my debilitating sense of self-loathing, and now that I've discovered the bad-assery of happiness, I am dedicated to helping other women fall in love with themselves, too.
These days, I blog about how there's magic around every corner. I write books which show women how beautiful they are. I speak about finding your voice and blazing your own trail… And I do it all in sequins!
My first book, Radical Self Love: A Guide To Loving Yourself And Living Your Dream, is available for pre-order now! It will be available worldwide on June 16th.
My Radical Self Love Salons are a runaway success, popping up in the coolest cities all over the world. In addition to learning self-love techniques, doing activities, and a whole lot of Q&A, you'll participate in a magical radical self love ritual. (You'll be finding rose petals for days afterwards!) Come and join us!
In 2012, I co-founded The Blogcademy with two of my best friends. We have since taught over 1000 women how to use their voice, make money online, and rock their slice of the internet. If you can't make it to a class, we now offer Blogcademy Online!
My first jewellery collection, Moxie, in collaboration with New Zealand Mint, was released in December 2013. It's full of sterling silver radical self love totems to uplift, inspire, and encourage you to make magic every day.
I am an ENFP and a Seven. Astrologically, my Sun and Mercury are in Virgo, and my Ascendant and Moon are in Sagittarius. I have a lot of Leo in my chart too, in case you couldn't guess!
I adore cracking open fortune cookies, animal rescue, turning the music up extra-loud, and counting my blessings. When I was a little girl, my ultimate goal was to have a transatlantic accent. Dreams do come true!
If this is your first time, you can find out what this site is all about right here.
My media bio is below. You can download images here!
GALA DARLING
Gala Darling has been teaching self-love for close to a decade, and is the creator of the Radical Self Love Method, a powerful technique which helps women transform their lives. She is an author, teacher, and speaker. Her site, galadarling.com, helps over 1,000,000 women a month find their voice, live without fear, and fall in love with life.
Born in New Zealand, she moved to NYC with one suitcase when she was 24 years old, and used radical self love to heal from an eating disorder and depression.
Gala has been called "a spiritual revolutionary", "the oracle of all things mystically glam", and "a modern-day guru". Her work has been featured in The New York Times, New Zealand Herald, Teen Vogue, New York Post, Elle, Cosmopolitan, Time Out New York, Sydney Morning Herald, The Daily Telegraph, The Age, Sunday Herald Sun, The Dominion Post, Inked magazine, MiNDFOOD,  Stuff, Viva, and countless others. She has been interviewed on CBS, ABC News, and Hay House Radio. Gala has spoken about radical self love and entrepreneurship at SXSW Interactive, TEDxCMU, and dozens of other events across the world, in addition to lecturing at NYU (twice). A co-founder of The Blogcademy, she taught over 700 women how to build their business through their blog on several continents in a two-year period.
Gala has worn mouse ears in the Blue Lagoon, walked the runway at New York Fashion Week, and once danced naked in front of strangers at a self-esteem workshop. She believes in kale and crystals, goal-setting and gratitude, kaleidoscopic colour and kicking ass.