Essentials For A Magical Tropical Getaway
The rain is pelting down outside, submerging New York City beneath inches of frozen water and encouraging its inhabitants to stay safely inside. I'm sitting up in bed next to Mike, with Dolly curled at my feet, and we're listening to Fleetwood Mac. It's pretty cozy and pleasant, and life could definitely be worse.
That having been said, I would be lying if I said I wasn't a little bit over the cold weather. Next month I'm heading to Los Angeles (for Blogcademy), and then Las Vegas (for good times!), where the temperature is significantly higher. Then in April, I'm going to Tulum on the trip of a lifetime. Quite simply, I am aching to go.
I'm fantasising about the crystal clear water, soaking up the sun, and learning about the stars, of course. But I'm also thinking — a LOT — about what I'm going to pack. Swimsuits, cover-ups, sparkly sandals… Yes, it would be fair to say I'm obsessing, as well as steathily browsing eBay to find good deals on, well, all of the above.
If you've got a tropical holiday on the agenda this year, why not make it as wonderful as possible?
HEADWEAR
No holiday is complete without at least one good hat. My suggestion? Go for the biggest bonnet you can get your paws on. This hat with a coloured brim (and matching flower) is the definition of fabulous. This hat has an extra-large brim, and will spring back to shape even after you crumple it in your suitcase!
I heartily endorse packing a turban. You never know what is going to happen when the salt hits your hair! There are so many cute options. I love the Abbey Cap style, because it's chic and a little bit different. Plus, they're devastatingly glam! They do turbans with gold sequins, gold polka dots, silver sequins, black with sequin flowers, black sequins, and even standard black is gorgeous. Of course, if you want to keep it simple, you can always tie a scarf around your hair and call it a day!
I also recommend taking a baseball cap. I'll be packing this cat-eared cap by Kate Spade with me, but I also support this, of course. (How could I not?)
P.S. Once you click the link, you might discover that you desperately need a fantastic petal-covered bathing cap. Resistance is futile!
SUNGLASSES
Sunglasses are perhaps the most important thing to pack. Otherwise, you'll be all Squintenstein, and nobody wants to be that guy! Take a couple of pairs, so you have options.
Need help? You can't go wrong with a bit of Karen Walker, studded or crystal-encrusted Prada frames, or two-tone Fendis. If you're frame shopping on a budget, never fear! Try the Bueller ($20), these clear cat-eyes ($20), gold cut-outs ($31.50), or glittery heart-shaped sunglasses ($20).
SWIMWEAR
If you're planning on doing a spot of surfing, you REQUIRE a psychedelic Mara Hoffman bodysuit (seen above), or at least a cosmic leopard rash guard. Cynthia Rowley's colourblock wetsuit is SO good, too.
If, however, you prefer to simply lounge on the beach or beside the pool, who could blame you? This boy-leg mailott has old school glamour written all over it, and this mesh inset bikini is gorgeous! This graffiti-print bikini is sweet, Minkpink's floral mirror print bikini is a hallucinatory wonder, and I love the simplicity of this pink neoprene halter bikini. If you're on the curvy side, GabiFresh's collection for Swim Sexy is AMAZING, and you can read all about the fit and details right here. (Go Gabi!)
BEAUTY PRODUCTS
You won't need an orgy of beauty products when you go away on a tropical trip. The hot hot heat means that 99% of creams, lotions and potions will simply drip down your front, which is never a cute look. Sun-kissed and natural is always the best tactic. Also, the more prep you can do at home, the better. Eyelash extensions mean you won't have to bother with mascara (or worry about it streaking down your face), and a gel mani/pedi is a great idea, too. Hint: use a neon polish, it'll make you look more tanned!
You will definitely need: Sunblock (I like Neutrogena)
Maui Babe Browning Lotion
A jolly good exfoliator (e.g. ExfoliKate) to ensure sunblock doesn't just sit in your pores for the rest of eternity!
A deep conditioner (to combat all that salt)
Tinted moisturiser (this is not the time for foundation or powder!)
Two of your favourite lipsticks
Rosewater for liberal spritzing!
Don't forget your perfume either, but make sure whatever you take is light. Leave your heavy winter scents at home! (I'm ride or die for Vanille Extreme, though Coco Extreme or Aqua Motu would certainly not go amiss.)
DRESSES
Dresses are perfect for holidays, because you simply slip 'em on and go. No muss, no fuss!
If you ask me, a floaty slip teamed with bare feet and a big hat is the stuff dreams are made of. Free People's Eyelashes slips are perfect (I have one in Indigo Ink). I'm obsessed with this fiesta floral dress, too. This blue maxi dress with a harness back is the perfect thing to wear on holiday, while this crochet dress with tassels just looks adorable. I love this white maxi dress with bird embroidery too. Very "I just eloped"!
While the Strange Fire romper by Finders Keepers is a one-piece, and not a dress, it's totally — in the words of Frenchie — divoon! Imagine the cuteness, cavorting in that on the sand!
Kaftans are even better than dresses: hunt them out on Etsy and eBay, and use keywords like "sequin" or "psychedelic" to find the best ones!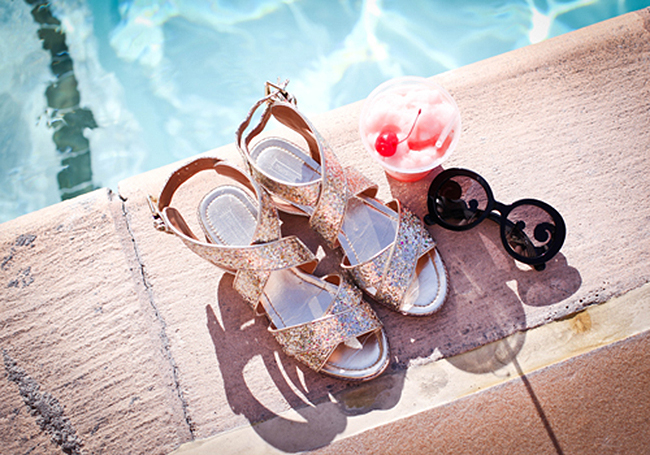 FOOTWEAR
A good sandal is hard to find, but you'll need 'em. Why not be a little different in a cute ombre style, or a Kate Spade jelly? (They even have rose embellishments!)
You'll want something casual for the plane or any day trips you plan on taking, too. I'm all a-swoon over these holographic Converse hi-tops (so sick!) and these rainbow Mara Hoffman espadrilles. I want to wear rainbows on my feet!
MISC.
Swarovski crystal-studded friendship bracelets should be a summer holiday essential. (I wear mine every single day.) A good kimono will get plenty of use on a tropical holiday: perfect for throwing over your bikini and swanning around in; of course, I love this pink one! And a quick note from your always-prepared Virgo friend: always take an antihistamine stick for bug bites!
Finally, don't forget to take a good disposable waterproof camera (or at least a waterproof phone case) for underwater selfies! A sea-selfie would be such a great image to blow up and frame!
Warm, sunshine-soaked dreams,

P.S. If all this has you lusting for an enchanting — and very warm — getaway, come and join me and the AstroTwins at their Become Your Own Astrologer retreat in Tulum, Mexico! I'm leading a radical self love new moon workshop, and I'd LOVE to see you there!
Photos from Gypsylovinlight, Wildfox Couture, Mara Hoffman, and Atlantic Pacific.